Contact
Qinsun Instruments Co., Ltd.
Tell:+86-21-6780 0179
Phone:+86-17740808215
Address:No. 2578 Minhang District Gu Dai Road, Shanghai
Contact:Mr. Li
QQ:846490659
Leather Air Permeability Tester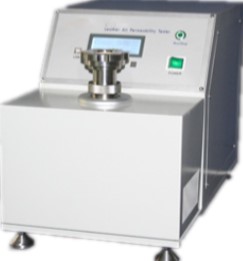 Introduction
A certain area of leather or textile samples is exerted a certain pressure on the air. The permeability is different, through the gas flow is different. You can test the permeability of the sample through the flow sensor.

Application
Leather acquisition inspection, leather quality inspection.

Test standard
QB/T 2799,GB/T_11603,GB/T4689.22

Features
The use of high-precision ultra-small range of imported electronic flow sensor can test the permeability of leather.
Fast test. The traditional test method takes more than 30 minutes. This tester only need 15 seconds to complete the test.
A key test. Install the sample. Just press a button. You can quickly test.
The instrument with USB interface, you can use the software to count, analyze test the results, and print the standard test report. You can also save the test report as EXCEL format.

Configuration
Standard configuration: host, a power line.
Optional accessories: 1.LABTest analysis software

Test principle
Exert a certain pressure on a certain area of ​​the leather or textile sample air, air permeability through the gas flow is different.
Technical Parameters
| | |
| --- | --- |
| Items | Parameters |
| Measuring range | 0~2400 ml/(cm2.h) |
| Measuring accuracy | Less than1% |
| Test time | 15 seconds on average |
| Test areas | 10cm2 |
| Specimen diameter | 5.5cm |
| | |
| --- | --- |
| Power | AC100-240V 50/60Hz |
| PC communication | USB port connection |
| Dimensions | L520 x W280 x H300mm |
| Weight | 10kg |
| Pressure | 10Pa~2500Pa |
| Warranty | 24 Months |
Message