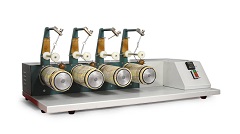 ICI Mace Snag Tester is suitable for the snagging performance test of knitted fabrics and woven fabrics in outwear as well as other fabrics easy to snag , especially for chemical fiber filament yarn and its deformation yarn products. It can quickly detect the fabric snagging tendency under normal wearing condition (namely snagging the yarn out from the fabric).
The instrument is equipped with an observation box and the comparison pattern card with different fabric structure. It is equipped with four test rolls ( for putting on the fabric to be tested). The mace ball is a tungsten carbide head and is controlled by a predetermined electronic counter.
Working Principle
The cylindrical specimen is placed on the revolving drum, and a chained hammer is placed on the surface of the specimen. When the drum rotates at a constant speed, the nail hammer makes random flip and bounces on the sample surface to hook the sample. The sample surface produces snagging. After the specified number of revolutions, compare with the comparison snag Lattuca for snag rating..
Standards
ASTM D3939 Standard Test Method for Snagging Resistance of Fabrics (Mace Test Method)
GB/T 11047 Textiles-Determination of fabrics snagging resistance-Mace test method
JIS L1058 Test methods for snag of woven fabrics and knitted fabrics
Technical Parameters
· Specimen size: 220mm×330mm;
· Revolving drum diameter: 82mm;
· Revolving drum length: 210mm;
· Mace ball: Tungsten carbide head;
· Mace diameter : 31.8 mm;
· Mace height:135g;
· Mace protruding length: 9.5 mm;
· Mace plant needles: 11 tungsten needles;
· Needle exposed length: 10mm;
· Tip radius: R0.13mm;
· Guide bar working width: 125mm;
· Distance between the hammer and the guide bar:45mm;
· Stations: 4;
· Test speed: 60rpm;
· External dimension: 1007×508×405mm(L×W×H);
· Weight: about 90kg;
· Power supply: 1∮ ,AC220V,50Hz,3A
Accessories
· Snag rating box
· Tungsten carbide crochet hook (12pcs/bag)
· Felt jacket (4pcs/bag)
· Comparison snag Lattuca