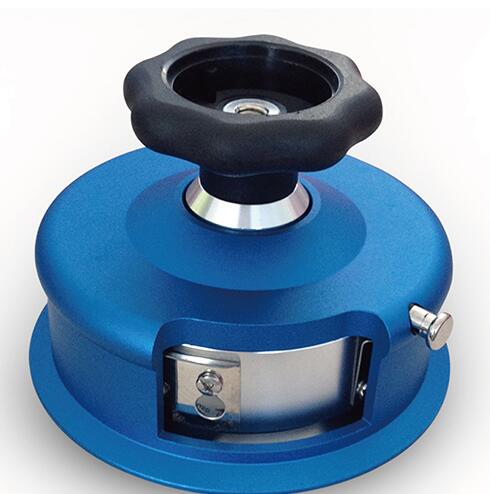 Round sampler also called round cutter which can apply in different materials quickly and accurately cut out the 100cm2 circular sample of diameter.

Applicable Standards:
ASTM D3776, BS 2471, IWS UNIFIED, JIS L1018 / L1096.

Sampler knife the computing unit weight of textile fabric, paper, cardboard and other items dedicated sampling devices, with a wide range of sample size, high precision, easy to operate, etc..
Disc sampler:
This instrument applies to a variety of fabrics such as wool, cotton, chemical fiber, knitting circular sample cut.
Sampling area: 100cm2 round sample,and you can weigh the sample via electric balance in g,g/m2,oz/yd2 and so on.
How to use:
Will be cutting fabric tile in the rubber mat on the disc sampler fabric, pull the locking device on the sampler, rotated about 90 degrees, hand held onto the cover, one hand holding the corrugated handwheel and impose certainpressure, then clockwise rotation corrugated handwheel (angle greater than 90 degrees), the round specimen and cut.
Sampler after locking device, rotating to its original position, so that the blade can not be exposed, so as not to hurt the hand, and other items.
Structure and adjustment:
Sided blade cutter blade of a total of four for the circular external four equal uniform, the blade can be replaced, the specific operation: Loosen the Phillips screws (four screws on each piece), remove the blade platen sampling blade changeon a new blade, pressure on the blade pressure plate, pay attention to the blade port for the clockwise tangential make the the four incision in the same plane, and then tighten the Phillips screws can be.
Ruled nicks in the bottom of the instrument for a fixed sample, easy to cut to prevent sample slippage.
Note:
This instrument blade sharp knife-edge, the use shall hand on the bottom, in order to avoid injury.
Instrument should rubber mat and cut sample, wipe clean the instrument is not on the instrument box to avoid damage.
Reprovision professional high-precision electronic balance, accurately weigh out the amount of grams, suitable for all kinds of textile, fabric, printing and dyeing, sampling factories and foreign trade companies.