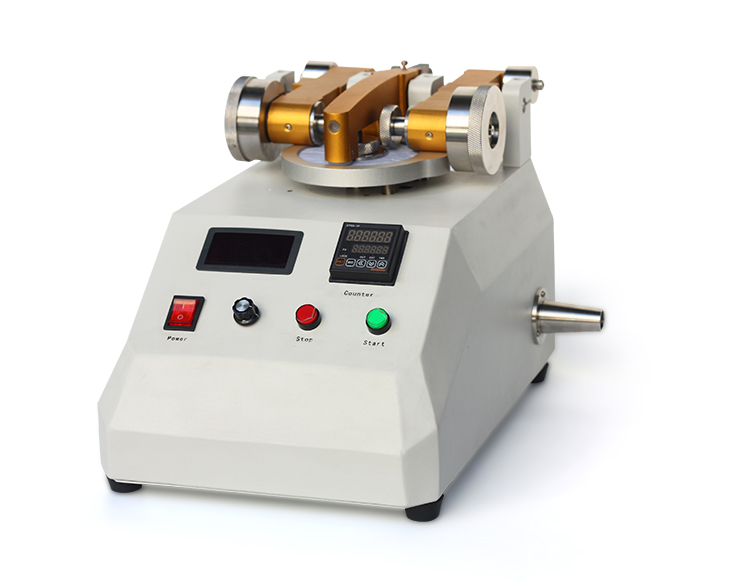 Taber Rotary Abraser is suitable for abrasion resistance test of leather, cloth, paint, paper, floor tile, plywood, glass, plastic floor, natural rubber and other materials. Use a standard cutter to cut the sample and specify the model. Sandpaper, load a certain weight to wear, take out the test piece after the specified number of revolutions, and observe the condition of the test piece.
Main parameters of Taber Rotary Abraser:
1. Display mode: LCD display, stepless speed regulation;
2. Test piece: outer diameter φ108mm, inner diameter φ6mm;
3. Grinding wheel: φ2″(MAX.52mm)1/2″(W);
4. Wheel center spacing: 63.5mm;
5. The distance between the center of the grinding wheel and the test disc: 37~38mm;
6. Rotation speed: 60/72 rpm;
7. Load: 250g, 750g, 1000g;
8. Counter: LCD liquid crystal display, 0~999999, automatic shutdown;
9. The distance between the test piece and the vacuum cleaner: 3mm;
0. Power supply: 1∮, AC220V, 50HZ.
The above are some related introductions about Taber Rotary Abraser. If you have friends who want to buy Taber Rotary Abraser, please leave us a message online!